LOCKOUT TAGOUT
OSHA 1910.147 - control of hazardous energy
Premier Factory Safety

's team has over 20 years of experience developing machine specific lockout tagout procedures for manufacturing companies across a wide range of industries.
What is lockout tagout?
Lockout tagout as described by the OSHA standard covers...
"...the servicing and maintenance of machines and equipment in which the unexpected energization or start up of the machines or equipment, or release of stored energy, could harm employees."
Why do I need it?
In 2017, over 5,000 workers were killed on the job and many thousands more were seriously injured. Unfortunately, control of hazardous energy was the fifth most frequently cited OSHA violation.
Of course lockout tagout is required by law. But we also know that investments in workplace safety have a very strong ROI - return on investment. Cost savings can result in a variety of areas, such as lowering workers' compensation costs and medical expenses, avoiding OSHA penalties, and reducing costs to train replacement employees and conduct accident investigations.
In addition, employers often find that changes made to improve workplace safety and health can result in significant improvements to their organization's productivity and financial performance.
Premier's Lockout Tagout System
Premier's lockout tagout system goes beyond the OSHA standard. Every lockout procedure includes the following...
Exact procedures for releasing, locking out and verifying zero energy for every source.
Machine specific information including machine name, description, serial number and location.
Plan-view drawing of the machine.
All energy sources identified on the graphic for easy locating.
A "You are here" is identified on the graphic making it easy to orient yourself and locate all energy sources quickly.
Unique identifier for the overall procedure using a barcode.
Physical tags hung on or near each energy source making them stand out.
Company specific lockout notification policy.
A set of highly durable, best in class placards for each machine.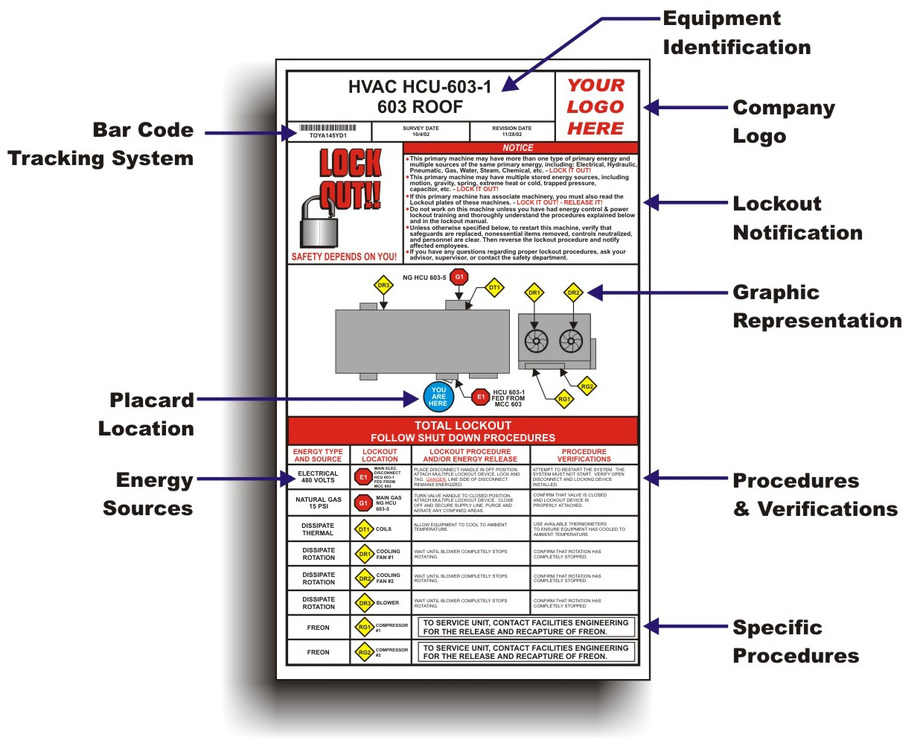 Our Process
Develop Corporate Library
At the start of every lockout project we work with you to develop a standard corporate lockout tagout library and set of templates. The library is tailored to your industry and will include the verbaige used for locking out each type of energy found within your organization.
Having a standarized library throughout your entire organization makes training easier and further reduces the chance of injuries. Employees moving from one facility to another will experience consistent lockout instructions and visuals.
Perform On-Site Survey
Once the library is established we schedule our engineers to come on-site and survey your equipment. They develop a plan-view drawing and identify all energy sources for each machine or system. During this time your plant can remain fully operational.
We usually request that you have someone available to our engineers while they are on-site that is knowledgable with your facility and its equipment. Especially if you have restricted areas that require special procedures or equipment for accessing.
Create Graphical Procedures
Each night our engineers electronically synchronize the data captured during the day using our proprietary software. Our graphics department takes that information and produces a high quality visual lockout procedure following your corporate standard.
Review & Verification
An electronic copy of the finised procedure is then sent to your team for their review and approval. Changes can be requested during this process so you can be assured to get exactly the procedure you want.
We also offer an optional on-site verification assistance service. Our exerienced technician will work with your team and guide them through the verification process. This can greatly speed up the project when you are dealing with limited resources or tight production schedules.
Production & Installation
Once your team has verified and approved the lockout procedures we will produce them using our best in class placards and tags (request a sample and see for yourself).
Once all procedures have been verified and produced we will schedule our technicians to come on-site to install all placards and tags.
Yearly Audits & Beyond
After your facility has been brought into lockout tagout compliance it is critical that you protect that initial investment and continue to maintain compliance going forward.
We give you the tools to maintain compliance. Using our Factory Solutions software you can view and edit all of your lockout procedures as well as order new placards and tags at any time.
The software also gives you the ability to perform yearly audits of your procedures, which is required by the OSHA standard. Or if you prefer, we also offer a yearly on-site audit service.